Stumbleupon, as you know it, is full of delicious surprises.
Here's a couple of things I will want to try out in the near future.
First off:
Magic Sauce.
I got this recipe from
here.
This sauce sounds easy to make and also quite good considering the spices that go into it. You can use it for anything you like, from giving taste to soups, to marinating meat. It's apparently also good as a salad dripping, or to fry stuff in it.
1/2 cup extra-virgin olive oil
1 teaspoon fresh rosemary leaves
1 teaspoon fresh thyme leaves
1 teaspoon fresh oregano leaves
2 teaspoons sweet paprika
2 medium cloves of garlic, smashed into a paste
1 well-crumbled bay leaf
pinch of red pepper flakes
1/4 teaspoon + fine grain sea salt
1 tablespoon fresh lemon juice
Gently warm the olive oil over medium-low heat in a skillet or pan, until it is just hot. When hot remove from heat.
While the oil is heating, lightly pound the rosemary, thyme, and oregano in a mortar and pestle.
Stir the paprika, garlic, bay leaf, red pepper flakes, and salt into the oil. Then add the bruised herbs and lemon juice.
You can use this now, but know - the oil just gets better as it ages over a few days. Keep it in a refrigerator for up to a week/ten days-ish. It thickens up when cold, so if you need it in a liquid state, place it in the sun or in a warm place for a few minutes.
Makes ~2/3 cup.
Prep time: 5 min - Cook time: 5 min
-------------------------------------------------------------------------------------------------
Now the second one I would like to try out is a stir fry. Dad made a stir fry once I loooooved it, so I guess trying out other recipes would be great.
I got this recipe from
here.
It's called
Chicken Fried Rice Recipe, and it looks great!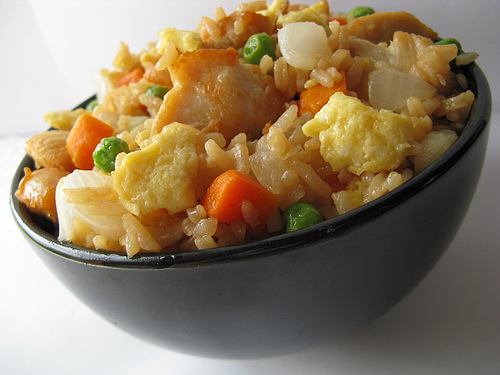 What you need to make this is:
2 boneless skinless chicken breasts (cut into cubes)
4 cups white rice (cold and at least 1 day old)
2 large eggs
2 minced garlic cloves (or more add to your taste)
1 cup frozen peas and carrots
1 white onion (diced)
½ cup soy sauce (or to your taste)
2 tablespoons oyster sauce (or to your taste)
Sesame oil (for stir frying)
Vegetable oil
Step 1: Fry chicken pieces in oil until fully cooked or golden brown. Drain on paper towels and set aside. Beat eggs and fry in oil or butter and scramble. Remove from pan and set aside.
Step 2: Add 1 teaspoon of sesame oil and one teaspoon of vegetable oil to the wok. Stir fry diced onion and garlic for 30 seconds, add peas and carrots mix and stir fry until vegetables are done to desired tenderness.
Step 3: Add a little more oil and then add the rice and stir fry for a couple minutes. Add soy sauce and oyster sauce to the rice while stir frying.
Step 4: Add the scrambled egg and chicken pieces and mix well. Heat thoroughly and serve.
-------------------------------------------------------------------------------------
So. The third one is for mum. She bought some really expensive Mascarpone and asked me to find a recipe that uses it. The first thing to come in mind was, of course the Tiramisu - and since I never made one with fresh ingredients before (you know, instead of the powder thingies you get from a store), I had to look it up. I guess this recipe came pretty close to the one she wanted.
This
is the place I got it from.
-------------------------------------------------------------------------------------
This next one is again for me. I wanted to try making a chilli for a long time now, but couldn't find a good enough recipe for it. I had a friend who used to make it quite often and she promised to write it all down to me, but the time passed and she forgot... and than our connection broke.
I got this recipe from
here.
Ingredients:
3 cups chopped yellow onions
1 pound turkey sausage
28 oz can of diced tomatoes
15 oz can of dark red kidney beans (rinsed and drained)
15 oz can of pinto beans (rinsed and drained)
1 can fat-free, low-sodium chicken broth
2 Tbsp chopped garlic
2 Tbsp chili powder
1 Tbsp fresh oregano or 1 tsp dried
1 tsp ground cumin
1 tsp mustard powder
Jalapenos (if desired)
Instructions:
Coat frying pan with cooking spray. Cook onions over medium-high heat until soft or just starting to brown. Add ground turkey and/or sausage and cook until no longer pink. Transfer into a dutch oven or crock pot (I like to use the crock pot and let it cook for a while). Add tomatoes, kidney beans, pinto beans, broth, garlic, chili powder, oregano, cumin, and mustard powder. Bring to a boil over high heat, then reduce the heat to low. Cover and simmer for 20 minutes. If you are using a crock pot you can just put it in and let it cook/simmer until you are ready to eat.
-------------------------------------------------------------------------------------
And the last one for today is for my sis. She adores raspberries, in every form they take, be it jam, or soda, or even the fresh fruits.
Chocolate Crepes with Raspberries (from
here
)
Crepes
2 large eggs
2 cups milk
1/2 cup powdered sugar
1 1/3 cups flour
2/3 cups cocoa powder
3 tablespoons butter
1/2 teaspoon vanilla
1/4 teaspoon salt
Raspberry Filling
1 cup fresh or frozen and defrosted raspberries
2 cups Vanilla Greek yogurt
Raspberry Sauce
1/2 cup fresh or frozen and defrosted raspberries
2 tablespoons raspberry liqueur
2 tablespoons cornstarch
1 cup water
1/2 cup sugar
For Garnish
Whipped Cream
Fresh Raspberries
Tools
10 inch nonstick skillet
a cake frosting spatula for flipping crepes
strainer
saucepan
food processor
blender
Method
Combine all ingredients for crepes in a blender. Blend until well combined. Strain batter. Let batter sit for at least 1 hour, in the fridge, before using.
Combine raspberries and yogurt in food processor and pulse until well combined.
Dissolve 1/2 cup water and cornstarch for sauce. In a saucepan, combine the other 1/2 cup water, sugar and raspberries. Bring to a boil and add cornstarch water slurry and liqueur. Bring to a simmer and cook for about 5 minutes. Strain.
Pour about 1/4 cup, or a little less, of batter in the skillet and tilt pan around in a circle until the batter covers the bottom of the skillet. Cook until it sets up and then carefully flip.
When your crepes are done, spread some raspberry yogurt on them and roll them up. Serve topped with whipped cream, raspberry sauce and fresh raspberries.