I told you guys that I'm wasting a lot of time nowadays looking at pretty pictures and interesting ideas on Pinterest.
I already have a bunch of different boards for all kinds of stuff - be it food or interior design. But I especially liked the idea of someone making up Harry Potter related drinks. And then I googled the term and came up with a bunch of interesting stuff. So I'm going to share only a couple of them with you guys (I know that this won't be the favorite topic of a bunch of you, but check them all out. Maybe you'll find something you like.), because there are a LOT of them out there. These next ones are my favorites out of all the ones I saw till now.
WARNING:
An Anonymous comment came that you shouldn't ingest anything that has dry ice in it. Now, I looked into this and it's totally correct (Sorry for not looking at it before, but since I never even saw dry ice in my life I could have no idea about how it affect people). Anyways, if you want to make the thing all ghostly looking, use gloves, and never even touch the dry ice with your hands. And only use the drinks that had it in it as props, don't drink them. They look good, but they will give you a nasty chemical burn if you're not careful!
First off... Moaning Myrtle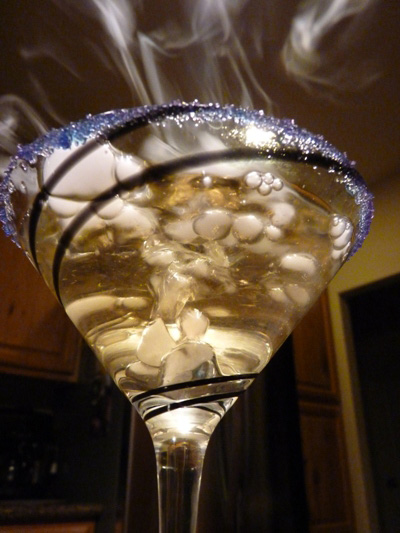 For one serving you'll need:
2 ounces Champagne
1 ounce vodka
2 ounces white grape juice
Purple sugar
Optional: Dry Ice
Pour a small amount of grape juice onto a plate and a small amount of purple sugar on a different plate. Dip the rim of the glass in the juice and then in the sugar until the rim is coated.
Add vodka, white grape juice, and ice to a martini shaker and shake until chilled. Pour into the martini glass and add the chilled champagne.
For a ghostly effect add a small piece of dry ice.
The Severus Snape:
1.5 oz Cruzan Blackstrap Rum
.5 oz falernum
.5 oz Fernet Branca
dash of lavender bitters
Combine all ingredients in a mixing glass over ice. Stir for thirty seconds, allow to sit for thirty seconds, and strain into a cocktail glass.
The Goblet of Fire
1 oz vodka
1 oz blue curacao
3 oz lemonade
Splash 151 rum
Pinch of cinnamon
Pour vodka, blue curacao, and lemonade into a goblet-type glass
Top with a splash of 151 proof rum
Light on fire
Add the pinch of cinnamon to the flames (cinnamon will spark)
The Lucius Malfoy
1 oz Bourbon
4 oz lemonade
1 slice lemon
Add ice to glass
Pour in Bourbon
Top with lemonade
Garnish with lemon
The Slytherin
4 mint leaves
1 oz rum
2 slices lime
3 tsp sugar
3 oz champagne
Muddle mint leaves, limes, rum, sugar in shaker until sugar dissolves
Strain into champagne flute
Add champagne
Garnish with mint
Lord Voldemort
1 oz Tequila
1/3 oz Tabasco sauce
1 jalapeno pepper
Muddle jalapeno pepper and Tabasco sauce.
Strain into shot glass.
Add tequila.
Garnish with thin slice of jalapeno.
Fred and George Weasley
1 oz Vodka
1½ oz Chambord
1½ oz Peach Schnapps
Splash of Pineapple juice
Strawberry Pop Rocks
Fill martini glass with cold water and place in freezer for 2 minutes to chill.
Pour all ingredients except candy in a shaker with ice.
Rim martini glass with Strawberry Pop Rocks
Pour in contents of mixer.
Luna Lovegood
1 oz Grey Goose Le Citron vodka
1½ oz Elderflower liquor
7 raspberries
1 tsp sugar
Pink lemonade
Lemon wedge garnish
Muddle 6 raspberries with sugar in a tall glass.
Add ice.
Top with vodka and pink lemonade.
Garnish with lemon wedge and raspberry.