My sis is turning 18 soon, and now everyone around here is in a huge rush to get everything under control - and the fact that it falls exactly on Easter doesn't help matters at all.
So, I thought why not partake in this little hunt myself, and grab the occasion by its pretty little ankle?
Today I'm going to post a bunch of amazing cakes on here... (and possibly even comment on them!)
I've been also watching the Cake Boss -yeah, again - for a couple of tips, I guess. That show is pretty good, and I always appreciate real art (and not the one where you paint a blot on a canvas and get lauded for your huge talent. Fu*k you modern painters!)
All right, now let's get down to business... there are actually so many amazing cakes out there it's almost impossible for me to get trough them all. But I'll do my best to post my favorites... (may I have one of them for my B-day please? :D)
Mom showed this one to me - and even if I'm not exactly a huge fan of this stuff, this cake is amazingly well thought out and really detailed. I almost expect it to be real - especially the Singer sewing machine.
Holy crap, I love this one... It would actually be kinda cool to have a themed party once - and having an adventurer one at that would be quite awesome. I would also bet my hat on it that these kind of cakes cost a bloody fortune, especially looking at the size of it. Also, as I watched Cake Boss, I'm pretty sure the microscope is made out of rice krispies (Though I could always be wrong).
I think this one is something all nerds would love out there. I love the little detail of the dungeons and dragons dice in the paw of the dragon - it adds to the feeling of real role playing games, and also the squared blank map base under the dragon. The golden couns around it are also a good touch, though id it were by me I would have added more of them - maybe even a little chest... you know, something to loot after you slayed the beast.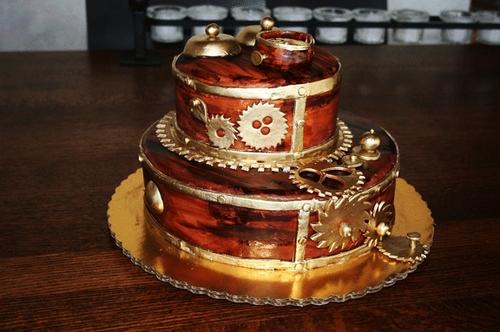 You know that I love the steampunk style... this cake is both simple and awesome for anyone who enjoys a good old Jules Verne novel. This cake was apparently made for a steampunk themed wedding - dang, I would have loved to see the wedding dress of the bride...
I find this one really sweet and quite unique. I never even thought about a cake with this theme before, but now that I saw this, it makes me want to participate in a grape harvest festival (It's been quite a while...). I love that the top layer looks like a basket, though I would have made the grapes a little smaller myself - the bottle of wine makes it all the better!
To tell you guys the truth, these cakes make me want to keep them just so I could gaze at them lovingly all my life. I think if I would be given something like any of these I would be too afraid to cut them up...
So, what do you guys think? Do you have any favorite cake designs?