And although I don't have all seven articles yet (3 are still missing, but I shall have them in my hands soon enough, hopefully), I thought that that week should start today.
Today's topic is comic books - or, to be more precise, internet comics.
The post is written by none other than Ágota. Enjoy!
So I'm just sitting here staring at the screen trying to come up with a nice, witty start for today's entry (you just can't refuse Tünde, even if it's exam… well month almost and you should be studying) this is an entirely new thing for me but here it goes.
When the idea of guest writers first came up I didn't really have any specific topic that I wanted to share with you all, just so you know you almost ended up with a nice little environmental sciences flavored post, but I decided to spare you all. Instead I'm going to share my favorite online comics in no particular order.
JL8 Comic
by Yale Stewart
It is a weekly webcomic, that tells the adventures of popular DC comic characters (mainly Batman, Superman, Wonder Woman, Green Lantern, Martian Manhunter, Power girl, Flash and a few other characters that you'll surely recognize), but it comes with a twist: they are children in elementary school.
Personally I love Karen's depiction in almost every strip, she's just that cute, when drawn by Yale Stewart. It is mainly funny, but there are strips that will tackle serious issues, such as which is better: ice cream or cake?
Tara Tallan says about her creation that "
Galaxion
is a science fiction adventure and romance, one that feels something like a mix between Star Trek, classic Star Blazers anime, and a Lois McMaster Bujold (Hugo-winning author of the Miles Vorkosigan saga) novel. Unlike most graphic novel science fiction, Galaxion is not dark and gritty, but bright and clean and a little whimsical, and populated by characters you actually wouldn't mind meeting over dinner and getting to know personally.
"
Galaxion is an old, eccentric starship with an equally colorful and interesting crew. The story starts with Galaxion being prepared for a jump test drive, that doesn't really go as planned, and I don't really know how much more should I reveal without actually spoiling the story.
Here's a little taste of the webcomic:
Left to right: Aria, Fusella, Vessa, Scavina, Patty, Darvin, Zandarin, Alex. If you want to find out more about them you should visit the castpage!
The hero business
by Bill Walko
Just as the title states it is about a company that caters to heroes, because "with great power comes great marketability". It is a funny webcomic to read and just enjoy the little insider jokes, that any comic book fan would understand.
Here are two amusing bits of the webcomic: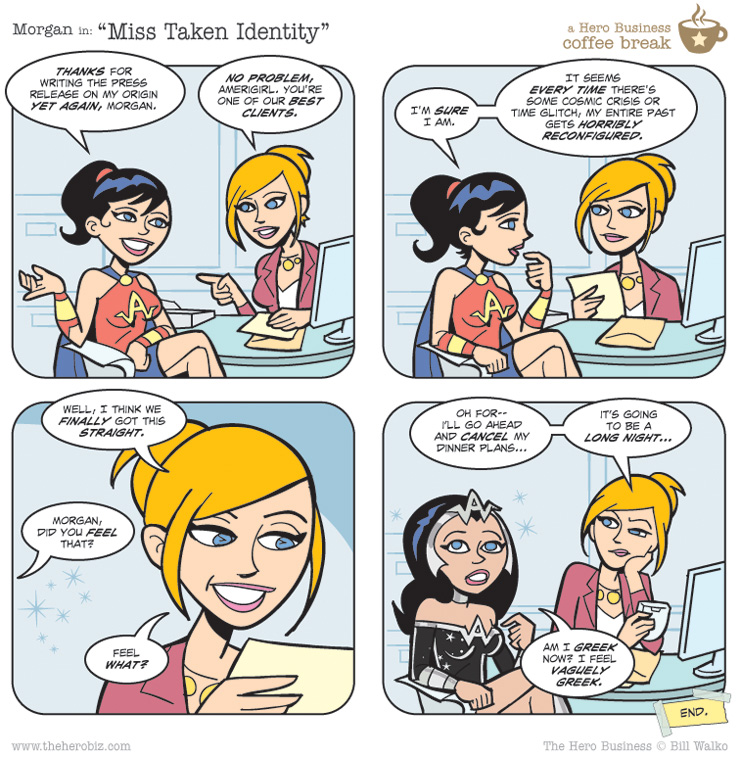 4.
Roommates
by AsheRhyder and
Girls Next Door
by Pika-la-cynique
There are two comics here because they take place in the same dimension, that AsheRyder created, where a variety of fictional characters live in the same apartment building.
AsheRhyder's
Roommates
focuses mainly on Erik, the Phantom of the Opera and Jareth, the Goblin King who become roommates, with neighbors such as
Javert from Les Miserables, Commodore Norrington from Pirates of the Caribbean, Sweeney Todd, Legolas, Aziraphale and Crowley from Good Omens: The Nice and Accurate Prophecies of Agnes Nutter, Witch and many others who pop up as the story unfolds. Erik and Jareth's lives become more complicated when Christine and Sarah the female protagonists of their respective works move into the building.
AsheRhyder's Roommates focuses mainly on Erik and Jareth, whereas Pika shows us the story from Christine and Sarah's point of view. The two comics share some plot elements but diverge eventually.
If you are interested you can find these on deviantart. A little taste of both: First a Roommates Happy Anniversary picture and then Pika's first Girls Next Door Introductions.
I think that's enough for a post and I hope at least one of you will follow one of the comics mentioned above.
I think that's enough for a post and I hope at least one of you will follow one of the comics mentioned above.
Aaaand this is where the article ends. So what did you think, guys? Did Ágota convince you to follow any of these comics? I have to admit, all of these sound pretty cool to me (Especially the Roommates one). I think I shall definitely check that one out! What about you?